The terms "Recruitment" and "Talent Acquisition" are used synonymously but the fact that these two terms do not mean the same and are often mixed up might go a long way in explaining why companies of today are suffering from acute talent shortage!
PiMARQ keeps an eye on the big picture and exercises a sharp distinction between the two. Understanding the difference between the 2 has helped us adapt our hiring process better and hire top talent for our clients.
What is Talent?
The lexicon is the only place where an unequivocal definition is available. In companies and industries of today the definition of talent is ambiguous, subjective and imprecise. PiMARQ has found a way to cut through all the ambivalence. We have a methodology that performs skill-based analysis of the organization and tags competencies for every job and its level. This makes the process of finding the right guy for your team a lot more tangible.
 What is Recruitment?
Recruitment addresses the headcount need of an organization. It is reactive and short-term and linear. If there is an opening, recruitment is about filling that position with the most qualified candidate that meets the requisite skill-set best found at that moment.
This means HR's create a job Description post it on all job hunt platforms like Indeed, Naukri, Fresher's World, LinkedIn, etc. They sift through the candidate pool set up telephonic interviews, do the first round of screening then schedule follow-up interviews for the few worthy and close the deal with the most promising ones. Check out open positions on our own platform on the Careers Page.
What is Talent Acquisition?
This is a whole different ball game. It is a cyclic approach that involves anticipating future needs of the organization and building relationships, nurturing and developing a sustainable talent pipeline with a long term view. This requires strategic planning and an approach.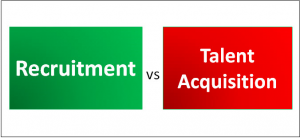 The Differentiating factors:  No doubt you'd have noticed that recruitment is a part of talent acquisition but engaging only in recruitment is choosing to be static and putting out the most recent fire. Find below the different ways talent acquisition differs from Recruitment
Strategy: Talent Acquisition requires a deeper understanding of the organization structure, nature of the business, local and global marketplace. It requires donning on wider lens to be able to predict future needs. The process of Recruitment does not even begin until a vacancy is created.
Workforce Understanding: This means understanding every role in the company structure. The inner workings, the competencies, job descriptions, skills and experience needed for every position's success.
Branding: The public face of the company has never been as important as it is today. Attracting talent requires having a great solid reputation as an employer. Keep the messaging clean, clear, concise, attractive and giving everyone an over-view of what working in your organization means. Heard of anyone ever not wanting to work at Google? I don't think so!
Market Talent Management: Talent sourcing involves finding candidates on multiple different platform and keeping them engaged. It requires building sustainable relationships all the while keeping in mind they are meant to potentially fill positions in the very near/far future. This requires you to be a funambulist (go on open the dictionary) with rad balancing act skills!!!
Metrics: Growing the quality of your potential hire involves collating pertinent data, analysing and working on the betterment of the hiring process.
PiMARQ's 2 cents: Having short-term and long-term effective talent management plan is pivotal. If your company is young and you feel you do not have the resources to engage in talent acquisition, management and want it taken out of your hands? No Problem! PiMARQ can develop and implement talent acquisition strategies tailored to your organization's needs.
Still not convinced that acquiring the talent of tomorrow requires an acquisition strategy in place today? Here is a popular case study on Accenture's talent acquisition strategy that won The Personnel Today Award for Innovation in Recruitment in 2014. They followed the above 5 step process.
The Challenge:
In 2013, Accenture embarked on a major change programme that changed the structure of the organisation and how it dealt with clients. This meant it needed to recruit for roles that hadn't existed before, such as big data consultants and beat its competitors to highly sought after digital talent.
What the organisation did?
Invited prospective candidates into the organisation to see the technologies and solutions it was working on.
Created a fully interactive room in which attendees could interact with demos using iPads, Xbox controllers, Twitter and other tools.
Ran 30-minute demos of its Innovation Centre.
Used Google Hangouts on key industry topics so people could talk to Accenture professionals in a more dynamic way than using Facebook/Twitter Q&A.
Recruitment team built their social media profiles, using LinkedIn to attract talent and making the business more visible.
Introduced a customer relationship management tool called Avature.
Benefits and achievements
Videos of Google Hangouts have attracted more than 3,500 views.
Hired 42 of the 400 people who attended events, representing higher ratio than CV-to-hire model.
Social media training has contributed to 100% uplift in LinkedIn applications in some areas.
Better conversion rates; one in every six candidates is hired (compared with 1 in 20 that agencies put forward).
Achieved more than double the number of hires compared to previous year.
PS: Thank you heworld.com for the case study!
July 26, 2019
Categories: