The dream is free but the hustle is sold separately! What does it take to make it on your own and achieve breakthrough success? In The DEN (Dynamic Entrepreneurial Network) is a series focused on getting up-close and personal with entrepreneurs of today! These entrepreneurs have proved the naysayers wrong! This gives us an opportunity to understand their journey and learn from it.
I was in my third semester of engineering when I realized that what's taught in an institution isn't enough to reach my life goals. I then developed an interest in entrepreneurship and started freelancing with a couple of friends in my college days itself. When I started freelancing, I was certain about starting my entrepreneurial journey sooner or later. But as I graduated from college, I got job offers from companies and then I started my professional career at around 22. I worked hard and in some time, I was handling a team of people and even hiring people almost twice my age at a young age.
Everything was going on well but then at the back of my head, I always knew that entrepreneurship was my calling. I learnt a lot from the places I worked at and finally started setting up my venture. It did come up with a lot of challenges but there was no looking back as I'd already made up my mind.
In 2013, I started up Think201 and saw myself get a step closer to my dreams. It was just the beginning and as my team grew, so did the responsibilities and requirements for proper management. Like any other startup, I had to inject capital where I received support from my family as well.
In my entrepreneurial journey, I face new challenges every day. But one thing I was very well aware of before even starting my business was the importance of a conducive work environment. Through my past work experiences, I understood and realized people are the most important assets for any business. You may train your employees for enhancing their hard skills but it's the soft skills that matter to keep a well-balanced culture. At Think201, we emphasize on lean philosophy and continuously seek ideas to grow. We aim to grow vertically in terms of value add through micro-products and services rather than grow horizontally in terms of team size. My team and I are already working to build a couple of Saas based products, one among which is Echoza and is in progress to be launched soon.
I am fortunate to have amazing business partners like Yashaswini and Kewal who joined me with time. Yashaswini not only handles the tech team but looks into the operations of both the entities of Think201 and First Launch. Kewal handles the design team in First Launch. After these two partners, Akash and Vedh joined me to start and head our full-service Digital Marketing business unit – First Launch. Akash and Vedh also handle the operations of the company as and when required. So the fact that my partners share the responsibilities regarding any decisions puts me into ease.
My journey so far has been full of challenges but it is what keeps me going to reach newer, better milestones. My partners and I have seen every challenge as an opportunity to grow. One of the most important things I emphasize is a balanced organizational culture. I'd also like to advise aspiring entrepreneurs to start their venture by putting their heart and soul into it. When you are doing what you like, it makes your journey worth remembering and you just want the journey to go on. For me, entrepreneurship is a lifestyle and I believe that a strong reason and vision is required before you have your startup.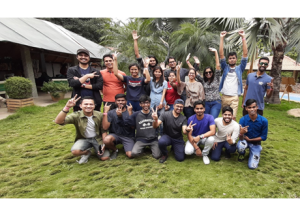 Anurag Rath
Founder & CEO – Think201.
August 13, 2019
Categories: