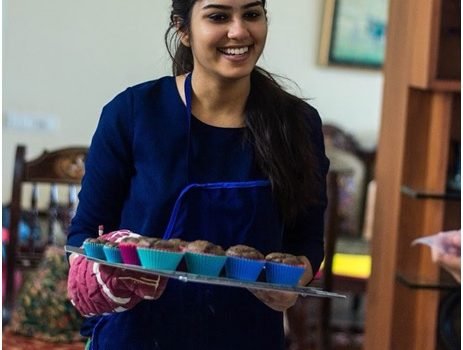 The dream is free but the hustle is sold separately! What does it take to make it on your own and achieve breakthrough success? In The DEN (Dynamic Entrepreneurial Network) is a series focused on getting up-close and personal with entrepreneurs of today! These entrepreneurs have proved the naysayers wrong! This gives us an opportunity to understand their journey and learn from it.
Many people start businesses after years of working in a corporate environment, putting all their savings on the line. Other people start businesses with groups of investors, where they know they have funding to take some risks.
I fall into neither of these categories, and perhaps this is the only Marwari trait I took from my ancestors – to be a true "kanjoos" Marwari. At 22, I didn't start with a lot of money in my own bank account. To get the most out of each rupee was the only way I knew how to do business.
In January of 2018, I started a dessert company called Dream a Dozen, I sold cakes and cupcakes full-time from home. As a business that was selling only online, we needed good photos to tempt our patrons. I had zero photography skills, no DSLR, no props, backdrops or fancy lights. So, I went to the stationary shop and bought some coloured chart paper. That was my first encounter with the term "jugaad." The balcony became my studio, the clothes line became my backdrop holder, and my father's phone became my camera.
About 3 months after starting, my partner (who handles all our marketing) and I realized that we needed more hands on-board if we were to make this bigger. We neither had the money to hire, nor the space to accommodate, so we sold it as a virtual internship. To our surprise, and almost disbelief, we had tons of applicants. That's when I realized the power of creating something bigger than yourself. Dream a Dozen became a brand that people wanted to be a part of. They wanted to contribute to the growth story of young entrepreneurs on a mission to bake the world a better place.
Slowly and steadily, the business grew. Customers liked our sweet treats and kept coming back to us. I even got enquiries for bulk corporate orders, which would have been impossible to fulfil. We needed a place of our own. My mom and I walked up and down the by-lanes of our neighbourhood every evening for 3 months to find a place. We spoke to dozens of landlords and at one point, I was sure if I wasn't destined to be a baker, I could at least be a broker.
We finally did find a place, and we invested in buying commercial sized equipment. My new oven was my pride and joy. The aunties in my apartment were so kind, when they found out I was getting my own place, they volunteered to give me all the extra appliances they had. I got a mixer, tables, blender and water purifier for free. I even got a functional microwave for Rs 100!
Today, we are a team of 13 who take care of marketing, business development and the kitchen. We've had over 30 corporate clients – the likes of Accenture, Cisco, Practo, RedBus, WeWork, etc. We've been featured on Under25 and LBB for our work. Every day is an adventure with an unexpected challenge to fix. So, we take small steps towards big dreams, and I wouldn't have it any other way.